Here I am basking in the glow of another win for Tom Brady — sorry haters, please keep reading — and I practically throw up before 7 am reading the New York Times. Today it was a softball profile of Randi Weingarten, the president of the American Federation of Teachers, that had me reaching for the dramamine.
Let me explain.
Her organization, for which she is paid half a million dollars to run, has been holding students and families hostage since the summer. As she was busy writing the Biden campaign's talking points on education and cheering him on as Mr. Science, she was also instilling terror into her members about COVID-19 and doing everything in her power to keep school buildings closed.
And who can forget that she and her counterpart at the National Education Association enjoyed a red carpet reception at the White House on the 2nd day of the Biden administration? The students in the cities where the AFT reigns supreme haven't been to school since March of 2020.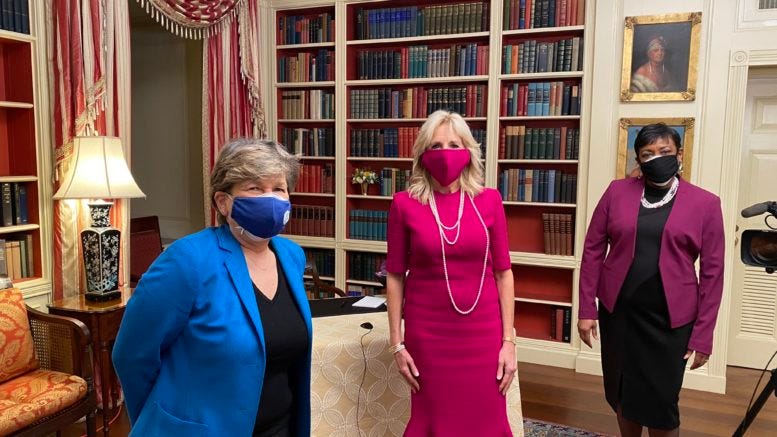 Randi is a major player in how we got to where we are now. But Dana Goldstein of the New York Times has portrayed her as some kind of re-opening messiah and largely ignored the massive role she has played in ensuring that millions of other people's children have not seen their teachers or classmates in 11 months.
She is not Glinda the Good Witch in this. She owns a big piece of how we got here and an honest reckoning of schools and COVID needs to include that.
I understand that some smart political minds think we need to slow down and appreciate what Weingarten is actually saying—but I am not a smart political mind. I am a parent of three school-aged children who talks to parents and teachers who live in districts where she has ignored or denied the science and chosen instead to peddle in myths in order to keep schools closed. Regardless of what it may mean for education politics in the coming years, it is wrong to pretend she has not been a central figure in turning the daily lives of families upside down.
She is part of the reason that so many children are regressing at lightning speed both academically and developmentally. She is part of the reason that so many adolescents barely leave their beds. She is part of the reason that student athletes lost their seasons and the activities that bring them their greatest joy and confidence. She is part of the reason why so many women have exited the work force—the New York Times has an obligation to tell that part of the story.
But they didn't.
Before I sign off from this Randi rant, I must highlight one other bit of the article that almost made me throw a chair this morning. From the article:
"Weingarten has family members and friends who have pulled their own children out of public schools because remote learning was not working for them. 'They have a right to look out for their individual children,' she said."
Here is my immediate reaction after reading this:
I have had time to think more about it and I've decided that I stand by it (though I don't like to use profanity on public platforms and probably would remove the acronym if I had a do-over.)
Randi Weingarten has spent three decades doing everything in her power to prevent low income families from having any agency when it comes to the education of their children. Despite the disproportionate demand for options by black and brown families, she has peddled in lies to ensure that they stay chained to their zip code assigned schools. It has never mattered if the school is good or bad or the right fit — it has always been about protecting the interests of the monopoly that keeps her in business.
She has shown time and time again that she does not think parents deserve the self-determination that comes with having options—well, except when they are her friends and family who have the means to opt out of the system. If you are poor and lack the resources to pay for an alternative, she will fight to the death to keep you trapped in a school that you do not want and did not choose.
I can sound hyperbolic when I talk about parents being trapped in chronically underperforming schools that are residentially assigned. But denying agency to families and forcing them to send their children to lousy schools because of their street address is an egregious wrong. I see no hyperbole in shouting that from the rooftops as often as possible.
I concede that we learned something from the NYT piece. But I am deeply troubled that the New York Times is more in the business of doing damage control for a union president than in providing an honest and thorough account of the damage she has done.
This piece first ran here on the author's substack.